Male
Gold member
Verified
Dec 1, 2021
1,549
6,819
681
Posted this on another thread, but wanted to make sure my wife's fans see it…
held a second wedding ceremony in Dublin, and were staying in the little town of Aughrim for 9-nights. After our small wedding in St. Anne's Park, we drove back to Aughrim and decided to go out to O'Tooles Bar, still in our wedding attire.
Everyone, which included a bar full of mostly drunken men, where extremely excited to see us all dressed up. They bought us dinner and drink after drink, they wouldn't let us pay for anything.
One of the locals said that his mom lived next door and had a beautiful garden where he could take some wedding photos. I was a little apprehensive about him and his friend, but my wife was really excited about the photos and they seemed like really nice and thoughtful guys. They both said that it was the absolute perfect place for our wedding photos! So after a couple more beers off we went.
As soon as we got into their apartment, it was exactly like he said. His mom woke up and greeted us at the door, made us tea, and invited us in for the beautiful pictures. It was an amazingly authentic Irish experience.
However, I still get hard thinking of how it could have gone much differently…
My fantasy started later that night, and I thought about it when I fucked my sexy thick "Asslyn" (as I call her when we fuck) from behind still in her wedding dress as it was pulled up over her big beautiful phat ass…
This is what happened in my fantasy, and I still wish would have happened that night:
My bride followed the neighbor fellow into their apartment with me directly behind her and his friend bringing up the rear. As soon as we were all inside I heard the deafening sound of the door double lock behind me as the neighbor turned to my wife and laughingly said, "it's a little too dark for the garden but we can get some sexy pictures right here!" That was the last thing I remember as I was hit from behind by his friend.
I woke up to the sound of my wife's muffled grunts and found that I was tied to a chair with my pants pulled all the way down around my ankles. My wife was looking directly at me, with her beautiful pixie face pulled back by the strong hand grasping and pulling her hair from behind.
She was draped over the back of their sofa with her wedding dress pulled down in front exposing her bouncing saggy tits as the friendly neighbor was fucking her furiously from behind. I couldn't move, but I could have yelled for help or did something, instead I froze and watched in agony.
I saw my bride's panties were forced in her mouth so she could only grunt in time to the neighbors deep thrusts. The length of her beautiful wedding gown was pulled up onto her back and her hands were bound behind her, providing another nice handle for his leveraged fucking.
I saw his friend next to them naked with his huge cock looking like it was going to explode from too much blood pumping through it. It must have been over 7" long, but the girth of his cock was fighting and made his cock look shorter than it actually was. He was holding his phone taking some close up videos of my beautiful Pawg wife being defiled on her wedding night.
He looked at me and said, "I was hoping you would wake up before my turn! You are going to love the sound of your brides cunt being ripped open by this monster!"
"Luckily for you we are documenting everything for you." As he pointed to the two video cameras that were set up at different angles. One to get the fucking from behind and my reaction in the background, and the second focused on my wife's contorted face and flopping tits.
Friendly neighbor let out a huge grunt as his cock exploded deep in my brides pussy. He pulled out and walked in front of Asslyn and pulled her panties out of her mouth and told her to clean his cock. He pointed at my now raging hard cock and said, "look at your husband's tiny pathetic rock hard cock, he is loving this, now be a good bride whore and do what your told!"
Asslyn looked at me with tears in her eyes as she took him in her mouth and sucked him clean of all his cum and her own unintentional wetness.
The friend grabbed my wife's panties and wiped the dripping cum from my wife's used cunt and thick thighs. He brought the panties to me and said, "clean off all that cum and then tell me what you want me to do to your slut bride!" The taste of the neighbors cum was intoxicating, much muskier and thicker than my own cum that I enjoyed tasting in private.
I looked my Asslyn deep in her eyes and said, "please force that thick cock in my my Asslyn's little pussy, fuck her as hard and fast as you can and make her squirt all over that monster cock!" He laughed and said, "Asslyn!?"
He turned to my bride and said, "now Asslyn, you are going to beg for my cock and tell me how much you want a real man to fuck you! That is if you ever want your husband to be able to fuck you again." He flashed her a knife, the only real threat of violence that was needed that night.
Asslyn didn't sound too convincing when she said, "Please fuck my pussy." The Friend said, "Call it your dirty cum dumpster cunt, it's not a pussy anymore." Asslyn quietly said, "please fuck my dirty pussy," as the huge cocked friend walked behind her.
He said more sternly this time, "tell me you want my huge cock in your filthy cum dumpster cunt!" And with one hard motion he shoved his dry cock balls deep in Asslyn's cunt. Luckily for her she was somewhat lubed up from the neighbors cum and her unintended pussy juices. My bride let out a scream that I had never heard before or since.
Thick cock friend stayed balls deep buried inside my wife's stretched and now throbbing pussy, not moving an inch. Asslyn looked at me and then down at my leaking and painfully hard small cock and then behind her and said, "please please please fuck me with that huge fucking thick cock! I can't stand it not moving inside my pussy." He laughed and said, "Pussy? Tell me what it really is!" Asslyn closed her eyes and loudly said, "fuck my dirty cum dumpster cunt with your amazing cock!"
I was so focused on my bride and the monster dick buried deep in her pussy that I hadn't noticed the neighbor wasn't around. That is until I heard the apartment door open and the drunken commotion come in all at once right as my bride started screaming for him to fuck her harder.
There must have been eight more guys from the bar in the apartment as thick friend started pounding his incredibly thick cock even harder and deeper in and out of my Asslyn's once tight pink hole.
The bar patrons gathered around Asslyn and started groping and pinching and pulling her tits and nipples. There were hands all over her, two pulling and punching her engorged clit, and three guys managed to each get a finger in her asshole, pulling in different directions to gape her already stretched hole due to the monster thickness inside her pussy. They grabbed and massaged my poor wife's fat stretch mark covered belly, telling her what a phat cum slut she was.
The oldest and dirtiest patron, took his soft and filthy uncut cock and forced it in Asslyn's mouth for a thorough cleaning, he came within seconds without ever getting fully hard and Asslyn greedily swallowed his cum. The first load she swallowed of many that night.
The assault on my wife's pussy continued until I could clearly hear her pussy squishing that familiar sound from her squirting all over that huge cock. Friend said, "fuck yes, she is cuming all over my balls, I am going to explode." He gave one more huge deep thrust into my bride as Asslyn screamed, "FUCK MEEEE!" and then collapsed exhausted over the back of the couch.
The neighbor spoke again for the first time in what seemed like an hour of fucking, saying, "hubby wants to clean her pussy for whoever gets her next." The crowd laughed as they tipped me over backwards in the chair I was tied to and spun me around so my head was pointing towards Asslyn on the couch.
Four guys lifted my bride of the back of the couch by her tied arms and her legs and carried her over to me. They flipped her over, held her dress up, and held her ass and pussy directly over my face and lowered her down. They bunched her already stained white dress around my neck and called it my cum bib.
Most of their hot cum had already started running out of her pussy all over her wedding dress, but there was still plenty for me to lick from her gaping hole and her sore engorged pussy lips. I savored every drop and then greedily sucked at her open hole, managing to get another gush of cum from deep up inside her cunt.
The crowd was cheering, calling us filthy names, and starting to argue about who would fuck her next. Every single one of them had their phone cameras pointing at my wife's abused exposed slutty body.
I was still tied to the chair flat on my back looking up, so they lifted Asslyn and placed her in doggy position with her knees on either side of my shoulders and her body bent over my legs, giving me a perfect view of her bright red open pussy.
The youngest patron, barely 21, got next and mounted my wife quickly, only about 10-inches above my face. Damn I wanted to lick her cunt as that cock was pumping deep inside her stretched hole. I got my wish as I heard a laugh as two guys lifted the back of the chair until my face was pressed against Asslyn and that amazing cock pumping inside her. They placed a couch pillow under the chair back to keep me in position.
I licked and sucked everything that I could reach tasting my wife's juices, the guys' sweat, their cum, and the kids soft balls. The kid pulled out and looked at huge cock friend, saying, "Thanks for stretching her so fucking much you dick!" As he did his cock bounced around my face and I instinctively clicked the full length of the underside of his throbbing cock.
He laughed and smacked my face a few times with his cock. He then grabbed my wife's huge ass cheeks with both hands and pulled them apart, spitting a huge wad of saliva directly in her open pink asshole and then slammed his cock home saying, "Damn that's way tighter!" Asslyn screamed again, this time not in pleasure as the first assault started on her virgin asshole.
The kid gave about 20-strong deep strokes as I sucked on Asslyn's now empty pussy. I pushed my tongue as deep as I could get it and sucked as much of her pussy into my mouth as possible. Asslyn came and squirted into my open mouth and yelled, "oh fuck, I am cuming baby!" The kid quickly pulled out and shoved his cock in her pussy and gave her a few hard thrusts to finish her orgasm and then plopped his cock out and in to my open waiting mouth.
He laughed as he alternated fucking her ass and my mouth, her ass and her pussy, and back into her ass over and over again. He finally came just inside her asshole so his cum ran as a steady flow out of her no longer virgin ass, over her pussy, and into my waiting mouth.
We stayed in that position for the next few hours until every guy had had enough of my wife's holes, most of them cuming first in her pussy or ass and finally in her waiting hungry mouth. There was a steady thick stream of hot cum trickling out of my brides holes, and the guys named her O'Tooles Cum Fountain and said they were going to put a plaque up in the bar for her commemorating our special wedding night.
Asslyn and I watch the videos they made us, and we constantly search on line for new footage to be posted from our amazing wedding reception. We play the footage for her bulls every single time one of them fucks her!
And the friendly neighbor was 100% correct, it was the perfect place for our wedding photos!
Here is my Asslyn looking back at me all excited when we were going into their apartment. And a couple of shots from later on our wedding night.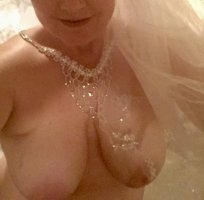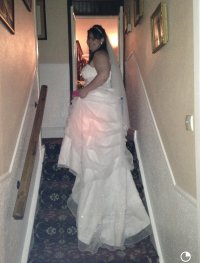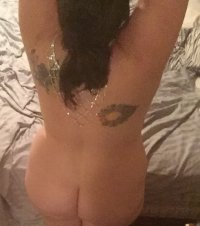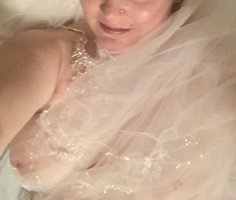 Last edited: