How did you know she'd go for it?
Met Gigi 35 years ago at age 24. She was divorced, had 2 kids, living with her mother after a year of separation. Very sweet, shy, and insecure. But that's what makes her hot. Many men are attracted to her because of it. Really down to earth.
We got along great as coworkers and friends when we met at work. I asked her out a couple of times as she showed interest but declined. I couldn't figure it out as she would smile and seem tickled when I asked. I didn't know till after we had been together for about 3 months when she told me the reason she declined the first time. After I stopped asking, she chased me and yeah. I'm no fool, I took her out and she practically begged me to bang her.
So I asked why she had refused my invite first couple of times. She said she had been fucking 2 guys at the same time. She was 23 when she started banging a married 45 year old man. Hispanic guy with a little dick. She said she let him fuck her because he would talk nice to her and make her feel good about herself during her separation.
The second guy was a black thug lowlife. Had nothing going for him, lived with his mom, no job, car, or money. She said they met out in front of her mother's apartment complex where he charmed his way into her panties.
He would take her to his mother's house and bang her on an old couch in a dirty garage. She said they didn't get along or do much, just fuck or she'd suck his dick in her car. She said she didn't care for the guy and didn't even really like him. She just loved his big thick horse cock that had a curve in it like a banana because he could make her cum like crazy.
But a month after we met, she gave it up seeing there was a better life for her with me.
So she gave up the others and we started a life together raising kids. But a few years later, we got notice the plant was shutting down and 3 months notice we'd be out of a job. There was a guy there who was known to have a big black cock. This guy walked around with no underwear under his pants and the ladies would openly ask him and talk about it. He was proud and if you walked into the restroom, he'd be there standing at the urinal back about a foot holding his big thick black cock for all to see. I mean so big that the guys would ask him questions about it. He said not all women could take it.
So knowing we'd all soon be gone, I planned for him to stop by unexpectedly. She's a lightweight so I had him bring some booze pretending that we were going to watch the game on TV. Offered her a couple drinks. Soon she was tipsy so I started asking questions about his big cock. She listened in with a little curiosity. I had like many other men, seen his cock in the men's room so I ,all us guys knew it was true.
So I asked if it was true, he said yes, then she asked him to prove it. He sat on the couch pulling out his big cock. A smile on her face and not more than 2 minutes later, she's in front of him down on her knees sucking his cock.
Ended up like a porn movie. Big 50 yo black man splitting a little young Latina in half with his big black cock. He stretched out her big pussy and filled it with joy. She whimpered a bit at first but once he stretched her, he hammered her hard and all she could do was moan and shout with pleasure.
He ended up fucking her about 5 times in the next 3 months till we lost contact.
23 fucking 2 guys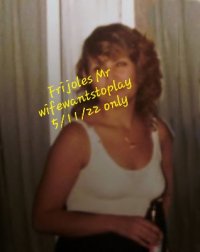 30 years later, we ride bicycles as a hobby. Plenty of my friends see her big ass wrapped in spandex bike shorts. One hot day she is wearing a thin tank top no bra when I ask her to take a pic with a guy we know. She does and when he puts his arm around her, her nips get rock hard. He ends up sending me a message one night, says he's drunk and jacking off to the pic. He says he spoke with her and could tell that if I gave him the chance, he would invite her over for a little party and she would GO FOR IT.
I asked what he meant. He said he could get her into a threesome if he had the chance to chat with her and a couple of drinks. I told her about it but she didn't believe me till he approached her and invited her over for a small party. Of course the others planned to leave so the three of us could be alone after the party.
So she accepts then sure enough, company leaves and we end up in the pool. Some flirting swimming then he moves in close and starts removing her swim suit. Nothing like a threesome after a dip in the pool.
Next day, we get up and go for a morning swim. Didn't realize it but Dave told his buddy about us being there. So we're in the pool when his friend arrives. He strips naked as she watches from inside the pool. Holy cow, dude is built and a black stud body. Her jaw just drops.
He gets in the pool for a bit then approaches her doing some sweet talk. Pretty charming guy. Next thing I know, they are kissing in the center of the pool.
He talks some more then a couple minutes later, he's banging her from behind as she sucks Dave's cock as he sits on the pool stairs. It was so hot that I just sat back and watched them fuck her.
Dave was right, she still has it in her!
So now years later, she will go buy something sexy to wear out of town, usually Vegas. Something for after hours teasing and flirting with the men looking for a big cock to add a little fun to our out of town nights.
She's flashed in the casinos after hours and the security guards don't seem to mind. They turn a blind eye and pretend not to notice if one of the guys is groping or sucking her tits.
So now I know, after all the family deeds have been taken care of, I can get her to have a little fun when we get the chance.
35 years later and she'll still play the little slut when opportunity shows itself. One of her Vegas outfits looking for some strange cock.