Hello there.
I would like to take this opportunity to introduce a delightfully submissive wife who is seeking a little exposure.
I have her permission to use her photos and provide a little bit of information about her.
I strongly encourage all to leave a comment. If it is observed that R is well received there will be follow up photos and more information revealed.
R is married. She is very submissive by nature and desires to be humiliated and exposed. She loves the idea of her photos being posted so all of you pervs can admire her.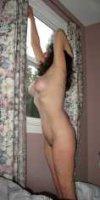 A very delicious & kinky lady indeed.
Please leave many comments because I want to show you all more.
Thank you.