Sep 15, 2022
496
1,411
176
May and I just returned from South America where we went on a cruise. Yeah, May got to play a couple of times!
An unusual aspect of the cruise was that they didn't issue keys to the cabins. You could lock them from the inside but they were otherwise open. I guess this is so they cabin stewards could get into the rooms to clean, which was almost constant.
A towards the end of the cruise we returned from a snorkeling activity and arrived back on the ship before lunch. May was wearing a one-piece swimsuit and a sarong for lunch. The older guys on the ship kept trying to catch views of May's tits and nipples without their wives catching them!!! We started having drinks during lunch on the back deck and decided to skip the next excursion and enjoy the tropical heat with more drinks.
We finally went back to our cabin to shower and change out of our swimsuits. When we got in May needed to urgently use the bathroom, so she went in first. When she came out she had only pulled her one-piece up over her arse, leaving her tits hanging out. She was pretty drunk and didn't really care. It was my turn in the bathroom and right after I showered I heard noises in our cabin.
Turns out that, while I was in the bathroom, our cabin steward (call him Juan) came into the room since our door was unlocked and thinking we were out on the exhibition. He saw May sitting on the bed, looking at her smart phone with her tits hanging out, and quickly excused himself. Apparently May encouraged Juan and invited him to come over to her. When he approached her, she undid his pants, pulled his cock out, and started licking and sucking him. She said he wanted to play with and pinch her nipples while she had his cock in his mouth. Remember, Juan is a young guy of maybe 22 on a cruise ship without any female companionship!
About that time I stepped out of the bathroom to see what the noise was about. I saw Juan's hands holding May's head, grunting "no me jodas, madam" and "oy, oy, oy" as he fucked my wife's mouth while she bobbed her head to meet his cock. About that time as he was getting ready to unload his seed into her, he saw me, with his cock in my wife's mouth! He was at the point of no return! May felt him tensing up to cum and managed to get his cock out of her mouth, but not before a couple of spurts hit her face as she moved his cock down to continue to cum on her tits. It seemed like he came on May for almost one minute!
Juan looked concerned as I stood there, with his cum on my wife's face and chest while she still held his still throbbing cock. He said something like "I'm sorry" Since it was the day before disembarkation, I got the money we were giving him as a tip and told him "de nada!"
Needless to say, May got cleaned up and we had a terrific fuck.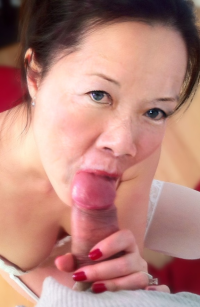 Last edited: