First of all, I am not a professional writer so please cut me some slack there. I have never posted anything like this, nor has anything this crazy ever happened to me. I didn't dare tell anyone I personally know.
Back in early summer I was going to a local gym routinely, but had been converting my garage into a gym. I had got about enough equipment set up to cancel my gym membership and focus that money on more equipment. I liked working out at home. I was talking to the guy running the desk about my setup while ii was cancelling my membership. When I left, a woman that is there a lot while I am came out behind me and yelled at me. She said she was eavesdropping and was also looking for a way to save some money. She asked if I would be interested in her paying me to work out in my garage instead of the gym. First of all, she is smoking hot. I have fantasized about her AAAA LOT. I was so caught off guard I didn't really know what to say. She said since we worked out at the same time and used basically the same equipment she thought it might make sense. I assumed there was more to this, but figured worst case, she was looking to use me and work out for free which I was okay with as long as I got to stare at her while she did it. I told her to keep her membership for a month and see how it goes using my garage instead. We exchanged numbers.
That night she texted and asked if we could try it out the next day. I said sure, she showed up the next day and it basically was totally professional and fun. After a few times, she said she felt like I was a personal trainer and was working out great for her. She asked if she could cancel her gym membership and I said sure. Shit at that point, I was hoping she would just move in with me! This went on for another week or so, then she asked me to come up monthly payment # for my "personal trainer fee". I told her not to worry about it, I enjoyed the company. She said her husband is better with business stuff, he would just stop by and work something out with me. I thought whoa whoa whoa, husband? What was I going to say at that point. I feel like we had talked enough that a husband would have come up, but she never actually said she wasn't married I guess. I was crushed and felt a little set up on the deal. After waiting a bit to respond.... hoping to send her my displeasure, I said sure, he can stop by sometime.
This guy pulls up in fancy escalade, gets out and looks like he is about 25 years older than her. He hangs up the phone and gets out, we were in the driveway. He said Megan said she found a personal trainer she likes. I was thinking WTF, personal trainer is a serious stretch. I kinda laughed it off and said it was working out well for me too. He looked at me like what the fuck does that mean. I was a little worried. I had no idea what to think at this point. Then he said, do you have all of the equipment you need? I said I was a few plates short of ideal, but should be able to get them next month or so. He pulled out his wallet and put $500 on the bench and said he could take care of that one. He said as far as the ongoing fees were concerned, his wife would take care of that. Said he was okay with whatever arrangement her and I worked out. He said he did need receipts and wrote his number down. I said okay, but wasn't sure what I would charge or how I would send him a receipt or why a phone number for a receipt.... but I didn't want to sound like an idiot. While he was walking to the car he said feel free to send pictures of her progress, I enjoy seeing her enjoy herself. Again, I just kinda laughed it off. My head was spinning. I was trying to figure out is this guy going to come back with a gun, or was trying to set his wife up, or was trying to set me up to hit on his wife.
After thinking about some of the things he said I started leaning away from him having anything against me or trying to set me up. Maybe he was hoping to catch his wife cheating on him though. Held off my urge to call his wife and asks her WTF was going on. I figured I hadn't done anything wrong. I would just see what happens.
Next time she came over it was like nothing happened until she noticed the new plates and I said I tracked some of those down. She knew I was planning to wait on them, so obviously she knew Jim left the money. I wasn't sure how I was going to figure anything out, but then I came up with something.... I mentioned her husband left his number and asked for pictures of her progress. I was half expecting her to say wtf? But no, she said, oh yeah, you should, he is pretty busy, but always enjoys pictures and winked at me. She went to the next set (dead lift) so I took out my phone and snapped a picture of her while she was doing it. She asked if I still had his number and I said it was on the bench. I went over to get it and thought... I'm really going to send her husband a picture of her.... what the hell and put his number in.
I turned around and she had changed weight on the bar and taken her pants off. She was walking up to the bar and said ready? Standing there in her t-shirt and camo thong. I asked what she was doing and she said, "He wanted to see progress!" and winked at me again.
She started lifting, I was literally shaking but I took a picture of her. She went to get the next weight and said he should like that. I said "Send that to him, really?"
She said "Yeah, both of them.... progress."
Then it hit me I discarded the first picture. I told her, "Shit I lost the first one".
She said "That's okay, we have more sets left."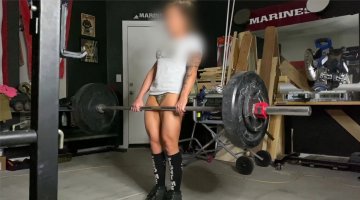 She added weight and went about the next set and I took and sent another picture. I asked her if he was going to wonder why she was missing pants? She looked at me and pulled her shirt off.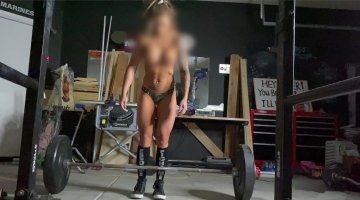 I was shaking so bad and was getting hard fast. I was trying to run the camera and could hardly get the right letters. I thought about stopping to think about it, but she kept moving like no big deal. I just went with it and kept taking and sending pictures. She took her camo panties off next and kept lifting in just her socks and shoes. when she moved to the next station, she didn't even seem flustered. Just kept doing sets, I kept taking pictures. I was scared shitless and thought why keep sending pictures if they might be getting me in trouble so I kept taking, but stopped sending them after she took her panties off. She did 2 more stations that way then got dressed again.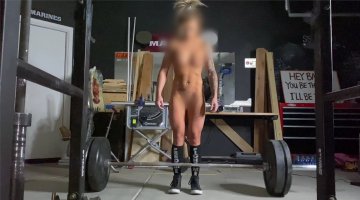 She said "Maybe next time we can figure out our payment plan?" and winked. "I believe Jim told you he requires receipts for all payments made."
I said "No problem!" and she said bye and left.
My head was spinning.... I looked at my phone and had a missed message. It was from Jim and I was terrified to open it. He said, "Looks like Meg found a way to pay. Don't forget I need receipts for every payment you receive. If I'm not getting receipts, we will have to take our business elsewhere."
I just started sending each and every picture I took, my heart was pounding! he wrote back "Thanx" and that was it.
She came back the next day and acted like nothing happened. I played a little and said something like different wardrobe than last time and winked. She said "Ha, Jim thought I was being cheap. I told him it was only a down payment" and she winked at me.
This was about a month ago now.....more to come