This past weekend we went to Reno as the wife had a sporting event nearby We arrived on Thursday night and checked it at the Grand Sierra Resort. The wife changed into a revealing low-cut top and we went down to dinner. After dinner, I played at the tables and she hit the slots. We met up later and said she had received a lot of looks and made one new friend who had invited her to play craps with him but when she got to the table he was gone. We went up reasonably early had some great sex and went to sleep. We spent the next day at the sporting venue, got back to GSR and had dinner heading to bed early as had a early morning the next day. Saturday was again a long day at the sporting venue and we got back to the hotel around six o'clock. We went up to the room, she showered and got dressed for the evening. Little black dress, lace sleeves, pantyhose, and black leather boots.

We had some dining credits so had a reservation at the steakhouse. Dinner was great, and then we headed out to gamble, as always, I gave her a kiss and told her if she got anything interesting going on to shoot me a message. I tried my hand at Pai Gow for a while, was up and down and finally decided to give it up. I texted to wife, asked her where she was and after she told me I told her I was gonna run to the room for a bit and then I would come find her. I came back down about a half an hour later and headed in the direction of her last known location. I spotted her but as I started that way I say a gentleman sit down next to her so I decided to stop and watch for a minute. The man now sitting next to me appeared to be close to our age, 50s, nicely dressed, over six feet tall, bald, and African American. I watched from a safe distance occasionally changing vantage points as to not be seen while they played the machines and chatted, there was a lot of smiling and obvious flirting going on. I sent her a quick text with a picture of my elevated heart rate on my Fitbit to signal my approval and let her know I was watching. After a while he got up and left, so I made my way over to the wife. She told me his name was Ron, and he was also staying in the hotel so had gone up to his room for a minute but would be back. She had given him her cell number so he could find her if she wasn't at the same machine. She said they had talked about a lot of things, he told her she was sexy, asked if she was married and she told him she was. He asked if her husband would be pissed that he was talking, she said she told him no, he would probably like it. She said his eyes got kinda big and he said "really?". She said they had talked some more and she shared that we had occasionally taken guys back to the room for some fun. I told her that I was all for having some fun if she wanted and she said we'll see. I told her I had to go to the bathroom and I took off but circled back around and watched her. I saw her on her phone, smiling and texting. She later showed me this: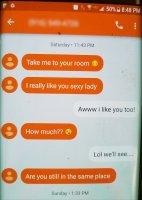 Soon he was back, and they were talking again, I watched as he moved closer, he grazed his hand along her pantyhosed leg and my dick started moving in my pants. Soon I get a text from her that says "where are you? Come here". So I head over and she introduces us and she says "we decided we not getting that lucky down here right now so we should head upstairs and get lucky there" With that we headed towards the elevators and upstairs.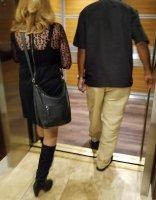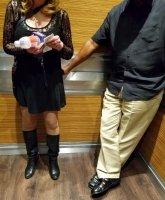 Once in the room we chatted a bit, she sat on the couch between us and took off her boots. I took a pic of them sitting together and then she suggested they move towards the bed.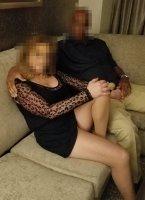 He came up behind her and unzipped her dress and let it fall to floor, she slid off her hose as he undid the clasps of her bra.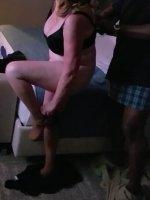 Now naked she climbed on the bed as he removed his clothing and then climbed up net to her. She immediately took his cock in her hand and looked at me and said "oh my god, I will never get this in my mouth" .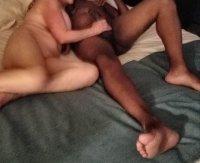 She stroked it as best she could although her hand didn't go all the way around it. He then got up on his knees and moved between her legs rubbing the head of his dick against her clit before sliding back and going down between her legs. He licked and sucked her clit til she was moaning and squirming. I put my cock in her hand and she stroked it while licked her and gently pinched her nipples which quickly brought her to a few orgasms in succession. She looked at me and said "condoms"? I pointed to the bed side table where I had laid a stack of Magnums which he then grabbed and could barely get on. He slid up between her legs and started to put it in slowly telling her he would go easy. He fucked her for a little while, she moaned a few times but stopped him as he tried to go deeper. He said "I only have the first couple inches in. It was clear she couldn't take the whole thing and eased him out and rolled him on his back. He pulled off the condom and she started to stroke, lick and suck his cock. As he got close to coming he moaned "lick my balls" and she lowered her head and took them in her mouth as he then grabbed his own cock and stroked it until he shot his load all over her arm and tits. Since she was on her hands and knees already I got behind her and slipped my cock in even though she tried to protest saying she was sore, but once in she gushed all over my cock and I quickly shot a huge load up inside her.
After a moment of repose, he asked for a towel and fetched one for each of them to clean up a little. He then dressed and said he was going to head back down and play some more, she told him she would probably see him down there.
She got a nice text the next day telling her how sexy she was and that he had a great time, she answered in kind. Who knows we may see him again sometime.