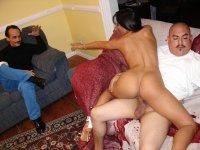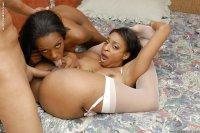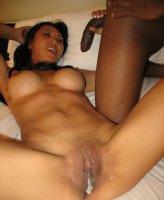 [AT
I am SexyLuv1 a 57 year old black man have been in the lifestyle seems like forever. I started in my early twenties with my first wife as swingers we both enjoyed all the sex and excitement and adventure. We would sometimes run into new couples where the wife was afraid so I and my wife Fran would start to have sex in front of the couple just to watch their reaction.
We would start to kiss and fondle one other hands roaming all over each other, I would open her blouse and start to play with her great tits. Fran was a beautiful black woman with great breast and ass to die for about 5'8" 130 lbs of solid fuck me woman. By now the couple is squirming in their seats as I slowly take off Fran's top and bra and now sucking on her naked breast every once in a while we would look at the couple delighting in their discomfort knowing how hot we were making them as I licked and sucked down Fran's body.
I put my hand under her skirt and start to play with her pussy as she is kissing down my chest at twenty 24 I was in great shape 6' 180 lbs of male I will break my dick off in you body so we knew we were a good looking couple and of course we love to fuck. As I turned Fran's legs so the couple could watch me as I started to finger fuck her slow and easy Fran open her legs to give the couple a good view.
She unzipped my pants and pulled out my fat 8.5 inch dick and we watch as the couple squeezed each other, I then bunched Fran's skirt around her waist and removed her panties she in turn open the button on my paints so she could have full access to my dick I licked down her belly to the top of her hairy cunt by now she was moaning in pleasure and her juices were covering my fingers the smell of pussy was in the air, I got down between her legs and started to eat that hot wet pussy knowing we were putting on a show that was driving the other couple crazy with lust as Fran squirmed and moaned she grabbed my head and push her pussy hard against my face as she came one of many times that night. Fran push my paints to the floor and started to suck my dick like she couldn't get enough every once in a while she would pull it out of her mouth and hold it in her hand on display for our audience to see as I became hard as a rock I had Fran sit on my dick facing the other couple so that we could watch them as we fucked in front of them.
This became hot and heavy fast. I asked the husband to come stand in front of Fran he looked at his wife with terror in his eyes so I asked her if she would mind if my wife sucked her husband dick I told her that she didn't have to do anything but judging by the tent in his paints he didn't mind joining us she said a reluctant yes with that he came over stood in front of Fran and she unzipped him and pulled his dick out.
Fran took his throbbing dick and brought it to her lips I thought I was going to peel him off the ceiling once she closed her lips around it, there we were me fucking her pussy him in her mouth and his wife sitting all alone with her pussy on fire this was done on purpose she needed to learn what a hot wife was really about as her husband started to cum we all did as we came back to our senses, I asked the husband if he would like to fuck Fran a big grin crossed his face until he looked his wife who had a hell no look on her face. So we dressed and left knowing tonight she want all that dick for her hot pussy. Just so you know they called us a day later and asked if we would fuck them of course we said yes and they became one of our best friends and I spent many hours fucking and sucking her hot wet pussy.
So that is how it began for me, Fran and I divorced after 14 years. I became a single black bull this is where my dilemma begins I enjoy watching my women being fucked by other men yes it's a turn on for me it gives me the opportunity to study her body and expressions of passion. One mistake woman make when they see men get hard when seeing other men fuck them is they think their men like it most of us do but some don't but men are visual that is why we get so tuned watching two women fucking. We might hate it but if we watch it we will get a hard on. With the couples I bull with most want me to be dominant which is easy because I am Others want a nice guy they can share the wife with. When I share I want a nice guy to fuck my woman I am allowing you to fuck the pussy I control the pussy not you.
The difference is when I bull I know it may sound ridiculous, but part of cuckolding is surrendering to a black bull – giving up control to a force of nature. When I fuck, I want to pound the pussy into complete submission, to fuck her like the married white slut she wants' to be, to make her come rather than helping her come. I want her to know that when I am fucking her I just own her body and can use it any way I want." I am not borrowing a white wife for a bit of fun, I am taking her, fucking the hell out of her, and converting her into a black cock slut wife.
Over the course of many years I have had a few women who played with me as my woman and I shared everyone of them but most of the time I was a lone black bull. As single bull I have done many things I have fucked wives, girl friends, couples, and sissy cuckolds of course some of the men wanted to suck my dick OK by me. There was this one couple well let me just tell you. To Be Continued.
I have my own Hot Wife group everyone is welcome to join:
https://groups.yahoo.com/neo/groups/BlackHotWives/