We have now been married about ten years, and she fucked another guy before we had been married a year. She's had lots of others since then. Her first time hurt me deeply when I found out, but now it's horny for me when she dates.
I know about how it all happened because the guy she fucked told a friend about doing her, and the friend later gave me all the details.
One Saturday Janet said she had to go down to a convenience store to pick up some wine. The store was just around from the apartment complex we lived in at the time. I noticed she had a skirt on when she left. I was sleepy, laying around on the couch, and dozed off after she left.
I heard her when she came back in. I had lost track of the time she had been gone. Waking up, I noticed she was smiling, and she said "Terry was down at the store. He pulled up right after me and walked over to my car and looked in and said 'What you doin' with that little skirt on, Honey?'" Janet said she told him, "Oh, just thought you'd like it". Then she told me they talked for a few minutes, and she got her wine and came on home. This didn't surprise me, Terry was always flirting with her, even when I was around.
What I found out later was that they didn't just talk for awhile and she came home. She really went to his apartment with him. As soon as they got inside, they started kissing and fooling around. He put his hand up her skirt and discovered that she didn't have any panties on. He finger-fucked her for awhile, and they kissed some more. She got down on her knees and took his cock out of his bathing suit (he had been at the pool). She sucked on him for awhile, and he took her over to his couch. He spread my wife's legs apart and stuck his big cock in Janet's pussy. Terry does have a big cock, I've seen him showering at the gym. It is very fat, and the head is a very pretty pink. He caught me looking at it once, and winked at me.
The friend told me that Terry said she had an orgasm after about three strokes. I don't doubt this, Janet has always been a horny gal, and is multi-orgasmic. She had wrapped her legs around his back, and pulled her crotch up towards him so he could get that big cock deeper in her. She was thrusting, squeezing her cunt as tight as she could around that big dick.
Terry fucked my wife for about 15 or 20 minutes. He didn't even undress her, just pulled her skirt up around her waist, pulled her tits out from her haltar top. She even left her shoes on. She was moaning, groaning, and telling Terry to fuck her harder. She had her legs wrapped around his waist, her ankles and feet on his ass. Then, Terry told her, "OK, Janet, I'm gonna pull out now, I'm about to cum!"
At this point, Janet was about to cum for a second time, and she said, "Don't you DARE take that cock out of me!", and just pulled him in further with the legs she had wrapped around his ass. Terry said he just exploded his load in my wife's pussy. He said he felt like he came for about a full minute, and my wife got off again, too. After their orgasms subsided, Terry pulled out of her, went to the kitchen and got some paper towels, and wiped his cum off of her pussy so she wouldn't leak all over his couch.
All of this while I was taking a nap.
Here's a pic of my little cheating, flirty baby girl. Leave her a comment, she likes reading them.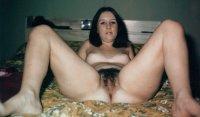 Last edited: