Aug 19, 2023
157
1,007
123
The first boyfriend I ever cucked was a sweet guy named Brian. I think it's what really got me hot about being a secret slut. Though, with him, it wasn't exactly secret. Years later, now that I am being a secret slut, I write a lot of fantasy fiction about my kink. This story is a bit of fiction, based on a dirty fantasy I always had around giving myself to Brian's hot brother. I hope you'll enjoy it.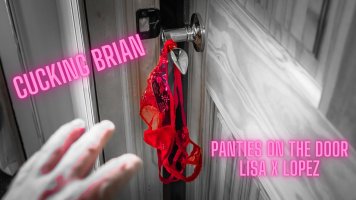 D
espite it happening often, Brian never felt prepared for the sight of a strange car in the driveway. Today, he was equally unprepared. The black sedan, parked behind Lisa's car brought a humiliated flush to his cheeks and got his cock hard, the way it always did.
Brian had known, from the first night he'd taken Lisa out, that their relationship would not be an exclusive one. Having never been with a sexually liberated woman like the gorgeous Latina, though, Brian had been willing to take a chance. He'd been enamored with her dark hair and piercing eyes, and more so by the sway of her hips when they danced and the way she'd moved his hand to her ass so invitingly and made him squeeze it, while she snaked her tongue into his mouth.
He'd been the recipient of envious looks as he held her and kissed her, Lisa having no qualms whatsoever about publicly displaying her affection. Her body moved against him sensually, hot and speaking of temptation with every movement, getting him hard with nothing but the feel of her tongue in his mouth and heat of her through her sexy dress.
"I really like you," she'd said, "but I always want you to remember that I don't belong to anyone. I'll never belong to you, either."
Brian had gulped and swallowed, unsure exactly what it had meant, but his dick was so hard that it hurt, and he had to have her. Lisa had taken him home that night, to her home, and she'd given herself to him in ways he'd never imagined. Lisa wasn't just passionate. She delighted in every act of sex, from the seduction to the touching, to the kissing, the licking, the sucking, and then she'd fucked him like she owned him.
That had been two years ago, and now Lisa did own him. She owned his heart, and she owned his cock. She owned it so wholly that Brian didn't just tolerate Lisa's dalliances, they excited him. Lisa was just that goddamn sexy. Whether he was fucking her himself or watching the way she fucked others, it was heartbreakingly erotic. Lisa never kept a boy toy for more than one or two uses, but she kept him, had kept him, for two years. She was loving, but mockingly cruel when she wanted to be.
Today, she wanted to be. He knew it from the moment he let himself into the house and, his cock straining his pants, he quietly climbed the steps. The symbol of today's cruelty was evident the moment he topped the stairs and looked at the bedroom door. Hanging from the handle was a pair of Lisa's panties, and not just any pair. They were the black and purple thongs that had been one of the anniversary gifts he'd given her this morning. Two years, today.
"I'm going to wear them all day," she'd said, her eyes twinkling as she slid them up her bare legs, "and when you get home, they'll be soaked with my pussy on them for you."
Brian, flushed, with Lisa lovingly sucking his cock, had imagined pulling them down her legs tonight, himself. Instead, in typical Lisa fashion, the words had come with a twist. Brian stepped quietly down the hall and unhooked the panties from the door handle. This, too, came with an added cruelty. Rather than leaving the door open for him to watch, the door was shut.
Brian burned, holding up the panties. They were wet from her pussy. He touched his cock through his pants and laid a hand on the door handle. Carefully, he tested it. It was locked. Fuck. She was torturing him on purpose. Brian played back the last week in his head, looking for something he'd done wrong to warrant such a punishment, but nothing came to mind. It was just Lisa being cruel, then.
He placed his ear against the door, straining. Goddamn it, he wanted to watch! He could hear a masculine groan and sounds of Lisa's lips gliding wetly over someone's cock.
"The fucking mouth on you," he heard the man remark, "Fuck…"
He should be enjoying it, Brian thought, Lisa's mouth was heavenly. The things she could do to a cock with that mouth were a gift. He heard her giggle sexily around his cock as she sucked it. The voice, he thought, was familiar but he couldn't place it.
"Sucking your cock is a lot more fun than sucking my boyfriend's," he heard her say, loudly enough that he could hear it clearly.
Brian shivered at the humiliating comment and wondered if she knew, somehow, that he was here, listening.
"You're so much bigger," she said, "Can I fuck it, now? Can I put it in my pussy and fuck it before my boyfriend comes home?"
"Yeah," the man agreed.
Brian heard a bit of shuffling, the bed creaking, and then Lisa moaned loudly in pleasure.
"Fuck, that's good," she hissed, "Fuck, I love that cock."
Brian heard her purring and the sound of lips smacking wetly, hotly, slowly, for several minutes, punctuated by the odd little moan from his girlfriend. Finally, the kissing stopped and the familiar sound of the bed, their bed, his and Lisa's bed, creaking came muffled through the closed door. Lisa groaned and began to pant, her breath coming in sharp, hot little gasps.
"Fuck me… Fuck me…" she said, her adorable little accent lending an deeper sensuality to the words.
Brian could imagine the scene, one that he'd been on the receiving end of many times, and one that he'd also watched just as many. He could picture Lisa's tight, round bottom, gripped firmly in her lover's hands as he lifted her up and down on his cock. He could see, in his imagination, the curve of her back and the long, black hair swishing softly as she rode that big dick.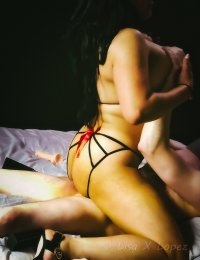 Perhaps she was in control right now, grinding her beautiful, shaven pussy on him as he held her hips or squeezed her breasts. Was she taking him for a ride, using his cock for her pleasure? Was he dominantly holding her body to his chest, his arms around her, knees bent, thrusting into her warm, wet sheath?
"Huh… huh… fuck!" Lisa hissed, then purred as she came for the first time.
Now there would be a shift, Brian knew, and then it came. The bed creaked again. Lisa inhaled sharply and then giggled. Her passionate moans and little whimpers became muffled and Brian knew that the man was taking her from behind. His girlfriend was prone, or maybe with her ass arched up, and today's lover was roughly thrusting his cock into her from behind.
There came the slap of a hand on flesh and Lisa's surprised, but delighted squeal. It came again and Brian imagined the pleasure the man was getting from spanking that glorious ass of hers. Brian stroked his own cock through his pants, listening intently, trying to paint the scene from sound alone and the memory of Lisa's body. The man's deep growls were clear over Lisa's muffled moans of desire, the occasional word out of her mouth.
Then, "Fuck, I love that cock," she said clearly, and Brian imagined her face turned to the side, her eyes closed and mouth open in pleasure, "Harder, baby. Fuck that pussy harder, oh fuck!"
Brian put his hand into his pants and touched his aching cock.
"Right… there… fuck!" Lisa exclaimed and then moaned loudly as she came, repeating over and over, "Fuck… fuck… fuck… fuck…"
"Your pussy's so good," the man groaned, "Fuck, this pussy's so good, baby."
"I want it deep," Lisa said, "I want to feel it deep. My boyfriend can't get deep, but I want you to."
Brian nearly came in his hand and had to stop touching his cock as it jerked. He listened to them shift on the bed again, and he knew that Lisa was now on her back, parting those lean, brown legs and inviting this man to couple with her. She gasped again, moaned, and Brian knew that he was between her legs, pushing his cock deeper than his own could go.
"Oh, God, Fuck," Lisa said, "I love you," and then Brian could hear the slow, wet smack of their lips again as this man filled up his girlfriend's pussy.
The kissing continued, as did the rhythmic slap of the man's flesh against Lisa's, the wet, squishing sound of her aroused pussy audible even through the door. His girlfriend was excited and wet, wetter than she ever got for Brian, and the thought of that tore at him inside, inadequacy, jealousy, mingling with his own arousal. He let his cock stay hard, refusing to touch it for fear that he'd cum and wipe out the hazy and hot feeling in his head.
"You like that dick, slut?" the man asked, "You like that big dick, huh?"
"Yeah," Lisa said, "Fuck, I love it! Are you going to fuck me all night?"
"Yeah."
"It's my anniversary," Lisa said, "Are you… gonna fuck me… all night… on my anniversary?"
"Hell, yes," the man agreed.
"What about… my boyfriend…"
"Fuck him," the man growled, "This fucking pussy is mine. Tell me this pussy is mine."
Lisa resumed panting and moaning for a moment, the sounds of their wet fucking reaching Brian's ears through the door.
"It's… yours," she said, "It's your pussy, baby. All night… It's your pussy… all night."
"Fuck, yeah," the man agreed.
Brian, despite his best effort, ejaculated in his pants.