Well-Known Member
Gold member
Verified
Aug 15, 2018
1,992
17,173
926
Just a normal tourist wife in The Big Easy enjoying the jazz culture. So innocent...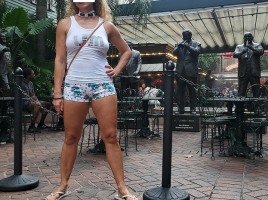 Also enjoying the perverse, sex culture on a busy balcony a short time later. Not so innocently, she dropped to her knees and looked him in the eyes as
she sucked some stranger's cock for what seemed to be about 90 seconds until he blew his load in her mouth. She knew
people were watching so she did her best at being an expert cocksucker. She swallowed every drop of this guy's cum...to applause.
It was quite obvious when he was cumming. She stood up, turned to me laughing and you know what came next...yes, the "cum kiss". At least she had swallowed most of his cum. That was really fun but I'm sure it made lots of bystanders uneasy. Oh well.
It was THIS STRANGER'S LUCKY DAY! She's topless, putting her hair up, so she already knows what she's going to do! Don't remember how she ended
up with her clothes back on before the blow job. We were probably about to leave before...you know? Can't say for sure...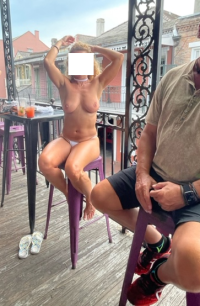 "Honk'n On Bobo" in New Orleans tradition..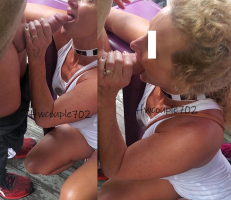 Last edited: