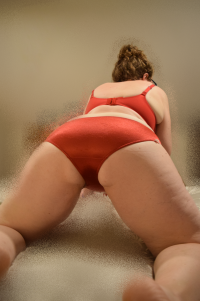 My wife has this girlfriend who she's been sleeping with regularly now. At least once a week. It is fucking hot as fuck. Unfortunately the girl friend is a full on lesbian with no interest in men. So they play together while I wait downstairs. The girlfriend won't let me watch yet.
But I still benefit from this so much. Every Friday night my wife and her girl friend go upstairs to fool around. They get each other off, then the girl friend comes down and tags me in. By then my wife is absolutely cock hungry and immediately sucks down my cock. Then we fuck and my wife is so wet already that I just slide right in. The girlfriend did all the hard work with the foreplay and first orgasm so all I have to do is come in at get right to it. I fucking love tasting another woman's pussy on my wife's lips and fingers.
Both my wife and her girlfriend are squirters. A few times, especially last week. My wife got her off and she squirted all over the bed. We didn't change the sheets, so I got to go up mess around with my wife and we both rolled over the wet bed. Eventually I got my wife to squirt. The bed was a total mess of fluids from two different women. My wife finished me off by riding me while I lay in their mixture of sweetness. Since we started this, I've been having the most amazing sex in my life.
That's a pic of my wife. There are a few more around as I posted about her before.